Peaceful, the time after Christmas...After all the chaos and frenzy that leads up to Christmas, it is nice to sit and reflect and feel His peace, love and reassurance. It isn't that I don't find Him in the chaos, He is there, oh, He is there in all the messy moments of our lives...in the Christmas moments of forgotten cameras and family arguments and last minute plan changes. He is in all those grace filled moments filling up every crevice and corner of it, even if we aren't sure He is there. At the end of it all, He is waiting for us to turn our hearts and minds to Him. He is cheering us on, calling to us, knocking and waiting for us to open the door.
The days following Christmas are the most peaceful perfect moments for me to find Him. For me, it is a time for reflecting on my relationship with Him, evaluating where I am and comparing it to where I want to be. Progress is not perfection and perfection is a myth. With perfection we wouldn't need Him and how very lonely that would be...I love this printable I found at the redheaded hostess, Focus on Momentum Not perfection.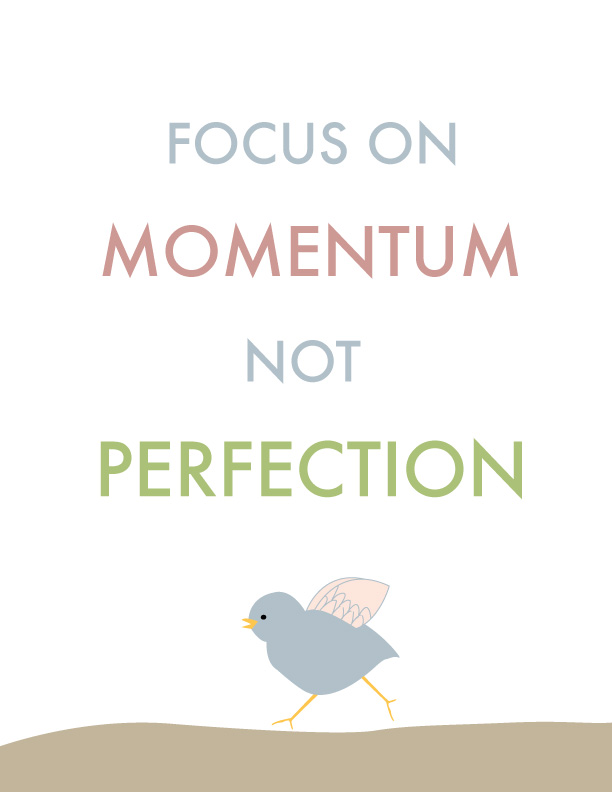 I hope as you move ahead into the New Year, that you will focus on your progress not perfection and offer yourself that grace.